Cotton Belt Route
This family-friendly excursion begins in Downtown Grapevine at the Cotton Belt Depot. Passengers will be whisked away along the rails through six different cities in Tarrant County before ending in the historic Fort Worth Stockyards. Once there, riders will have the opportunity to explore the Stockyards before re-boarding the train before returning to Grapevine.
While on board, enjoy the Great Grapevine Train Heist! Deputy Maverick needs your help to guard the Grapevine Vintage Railroad. Be sure to keep an eye out for any mischievous train robbers like Mustang Jones, who just might be up to no good.
Delays:
Grapevine Vintage Railroad operates on tracks it shares with both commuter trains and freight trains. There will be times when our train is required to stop and wait for another train to cross in front of us or pass alongside us. While all railroads communicate their schedules with each other unexpected issues with freight trains may cause unavoidable delays.
Trip Details​
Check-in between 11:30 a.m. and 12:30 p.m.
Departs: 12:50 p.m. (approximate)
Enjoy approximately 2 hours to independently explore the Stockyards
Re-board in the Historic Stockyard Station in Fort Worth: 4:35 p.m.
Stockyards departure: 4:45 p.m.
Arrival at Historic Cotton Belt Depot in Grapevine: 7:00 p.m. (approximate)
This excursion originates from and returns to Grapevine
The ticket booth opens at approximately 11:30 a.m. on operating days only
Coaches and seats are selected by guests at the time of reservation. Grapevine Vintage Railroad staff reserves the right to move seats for seat optimization if needed.
CURRENT SCHEDULE
June 3 through November 19
Every Saturday and Sunday, including Labor Day.
*Cotton Belt Route Excursions will not operate October 13 - 22 due to Day Out With Thomas
Ambassador Class
$72 - Price includes one bench-style seat that holds two people
Travel in style inside one of our first-class coaches while seated around a four-person table. Guests receive complimentary popcorn, snacks and sodas on each leg of the journey. A variety of card and board games will be available for onboard use. The table-style seating gives guests more leg-room than our standard first-class coaches.

The price includes admission for two guests. Want to add more legroom? Consider purchasing two benches to avoid sharing a table with guests on the train.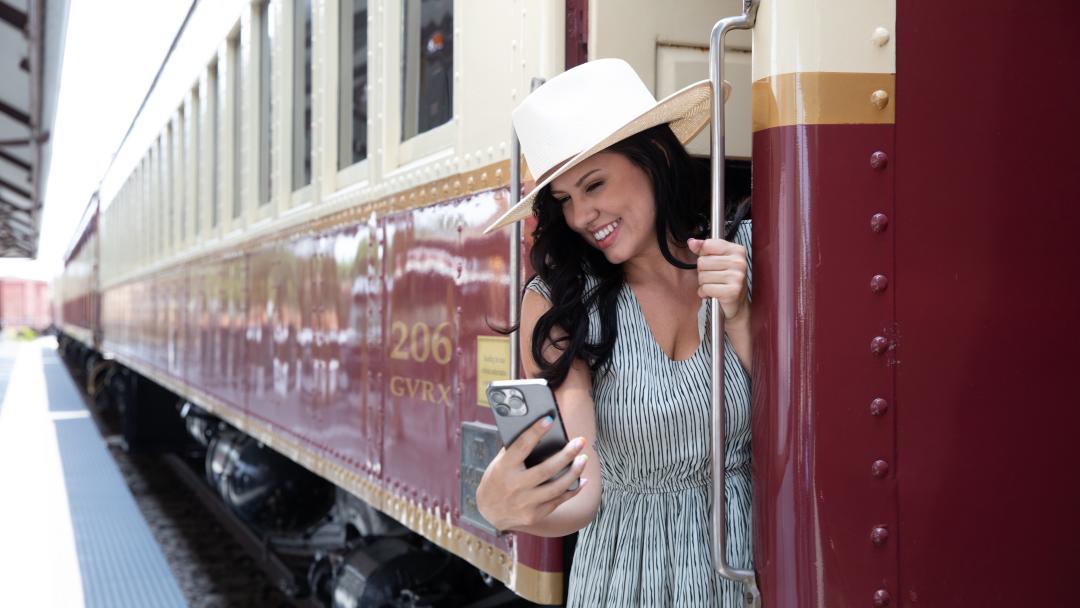 First Class
$26 - All ages
The Grapevine Vintage Railroad offers four First Class coaches to enjoy during your next visit. With turn-of-the-century ambiance, these coaches have Victorian-upholstered seats and are fully climate-controlled for year round passenger comfort. It's the perfect ticket for anyone looking for an elevated experience no matter when you decide to visit.


Whether you're looking for something fun to do with the kids or a unique date idea, you'll enjoy your time on board the Grapevine Vintage Railroad.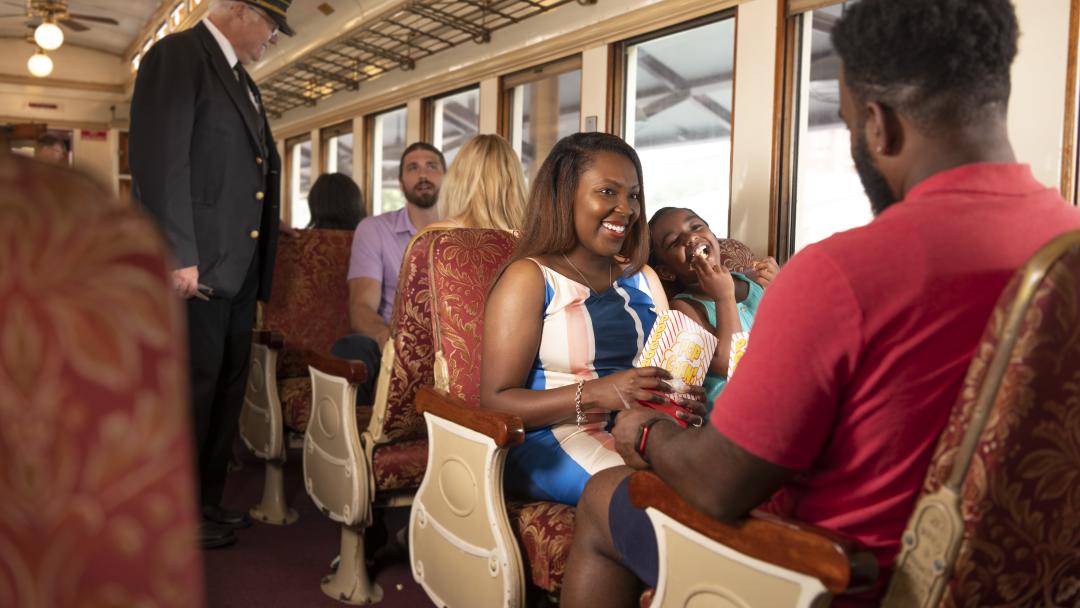 Touring Class
$22- All ages
The Touring Class is another option for guests who will enjoy the floor to ceiling views as you travel through one of the many communities that make up Tarrant County. These historic coaches come complete with padded seating and year round climate-control for passenger comfort throughout the year.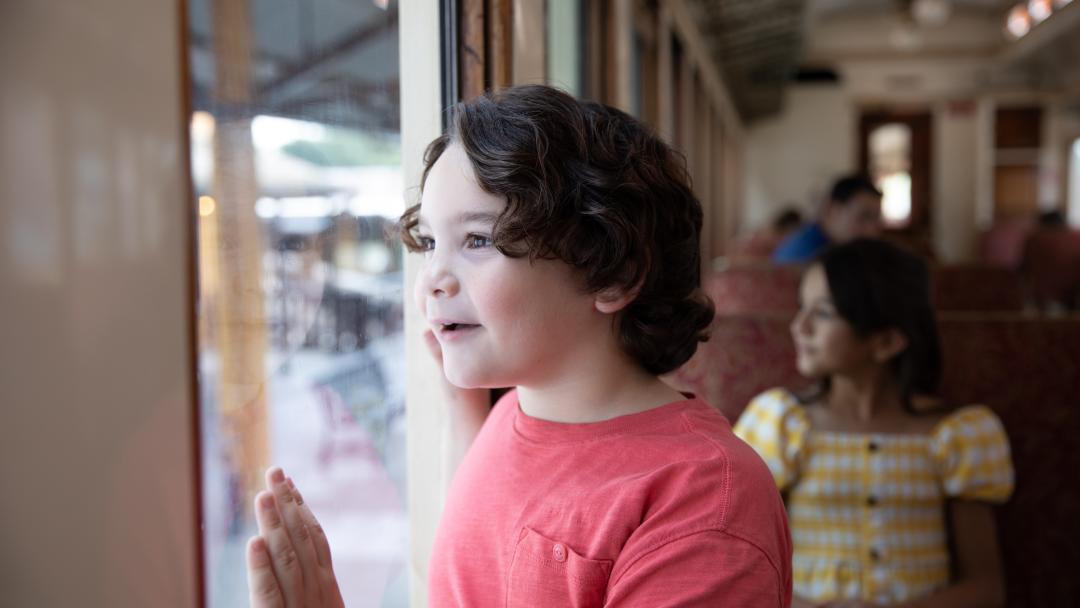 Economy Class
$18 - All ages
The Economy Class a turn-of-the-century railroad experience that features open-air travel on the rails. Guests will enjoy the open-air concept during warm months and will welcome the comfort when the windows of the coaches close during the colder seasons. Air conditioning is not available.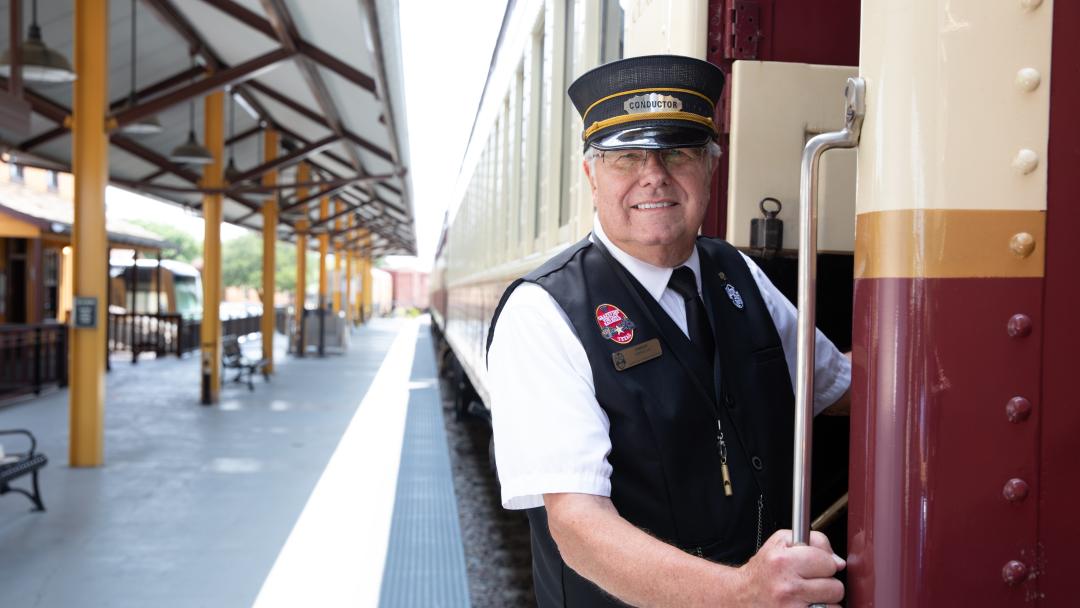 KNOW BEFORE YOU GO
​Due to federal regulations, children 13 months and older require a ticket and their own seat. Children 12 months and younger may ride for free, however they must ride in the lap or arms of a parent or guardian. For safety reasons children may not ride in a car seat or stroller while the train is in motion.
The Grapevine Vintage Railroad does not offer refunds or compensation due to delays. On rare occasions, delays can be an hour or longer. Refunds will be given due to cancellation. We appreciate all of our guests and look forward to serving you the next time you visit us in Grapevine, Texas.